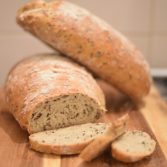 Five Grain Bread
Five grain bread is one of those bread loves you cant stop eating and don't have any conscious issues about your kids eating it because it's full with all the good stuff they refuse to eat separately.
The grains supply a big variety of fibers, Iron, protein, in high amounts, adding them to the bread is by no doubt adding a big healthy supplement to our sandwich.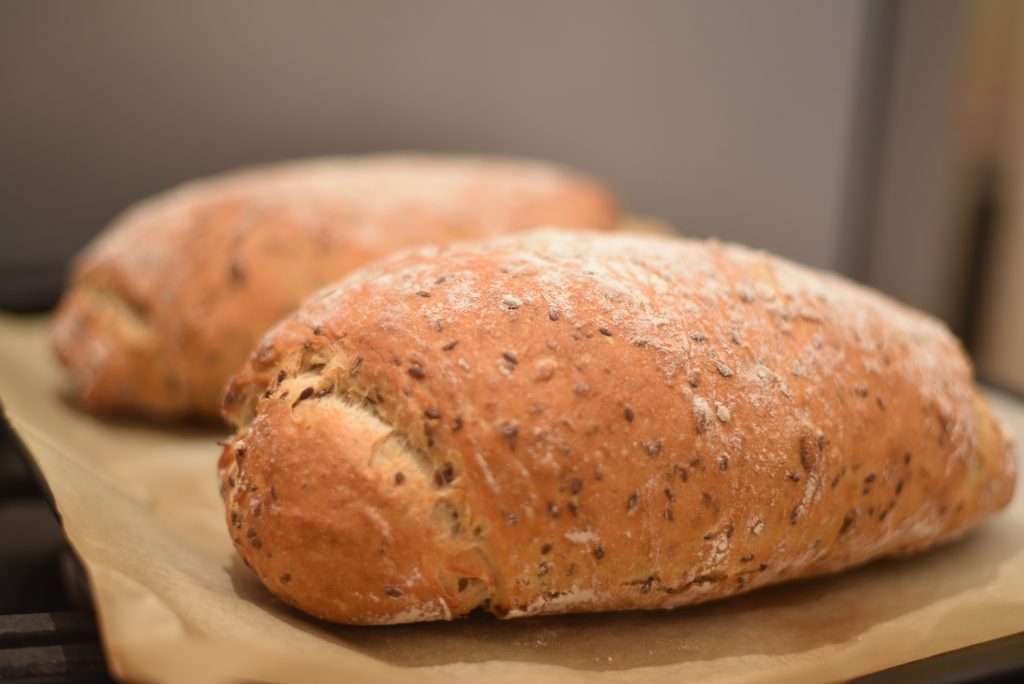 Why this five grain bread works?
It's true that not all multi grain breads are high in nutritional values, it all comes down to the percentage of the grains out of the total weight of the loaf. Most breads today on the supermarkets and even in bakeries contain a small portion of grains compared to the total weight of the loaf, selling these bread as a health bread and high in nutrients while it is really high is sugars and carbs.
In this bread the grains are about 50% of the total weight making the bread high in nutritional values so it's possible to make a bit more tender and light with all-purpose flour.
Pâte Fermentée in bread
What is Pâte Fermentée? literally it's fermented dough (sometimes it's called 0ld dough), by using it we add another depth of flavor to the bread. the name comes from either using a specific fermented dough mix to the bread dough formula or using a piece of our last bread's dough.
If you're baking more than one bread loaf per week the Pâte Fermentée can be taken as a small piece from your last bread, keeping it in the fridge for 2-3 days, adding it to the new loaf as needed. So, from every bread you make, just take a small piece and set it aside for the next bread, this will enrich your bread flavor by quite a bit.
Pâte Fermentée can be freezed as well for up to a week if you're a one bread per week baker, but don't let it stay in the fridge for longer periods, the good deep taste of the old dough is replaced by freezer bad taste.
Five grain bread soaker
The multi grain is first soaked in water hence the name soaker, this action achieves a full absorption of water from the grains making them swell and prevent them from absorbing liquids from the final dough, keeping the hydration level of the dough balanced.
If you want to reach a nuttier crispy flavor, you can also toast the sunflower and pumpkin seeds, it will generate a new crunchy texture and provide with a rich nutty taste in the bread.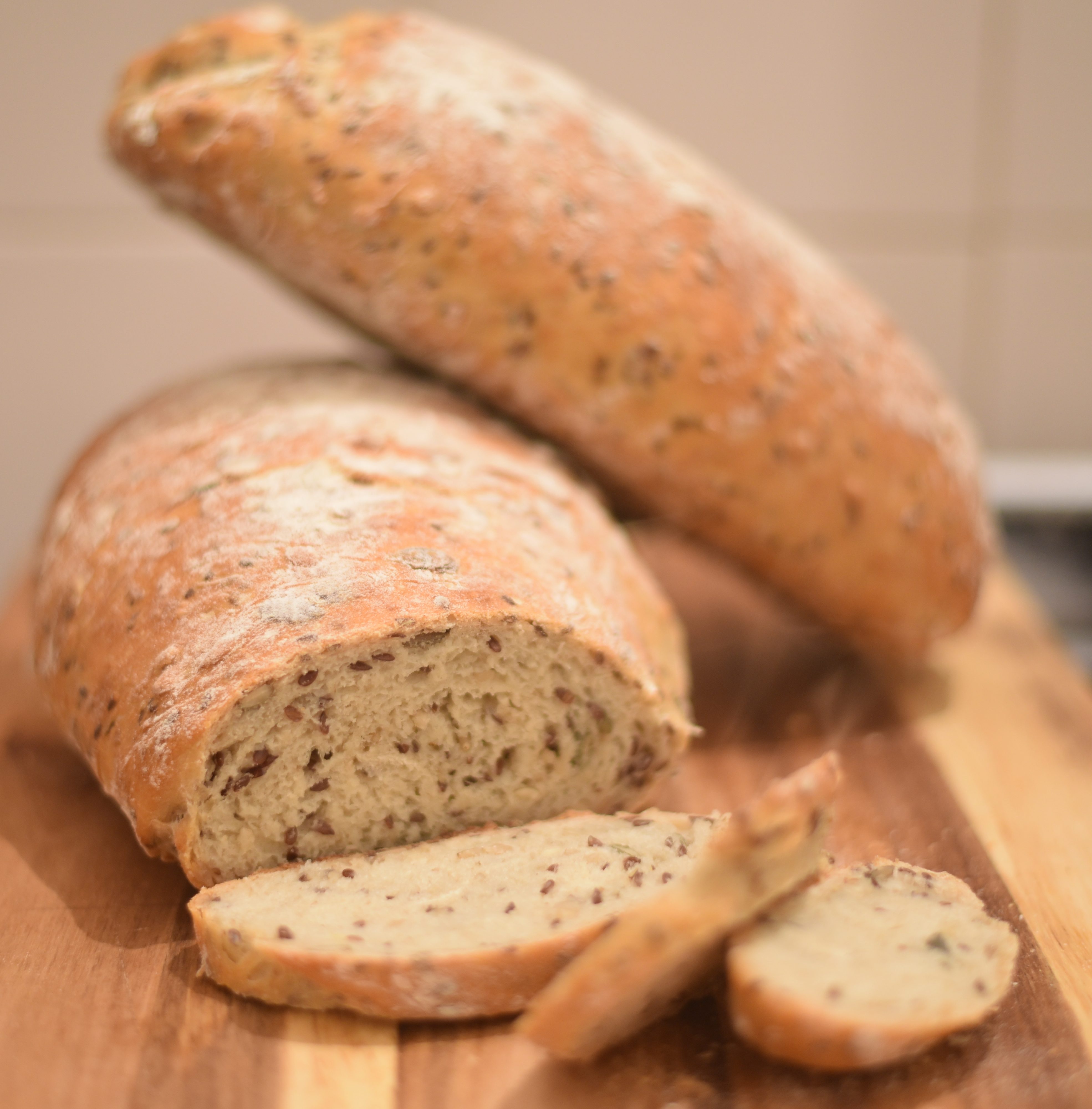 Ingredients
Soaker
50g/ ½cup Pumpkin seeds
60g/ ½cup Flaxseeds seeds
50g/ ½cup Sunflower seeds
50g/ ½cup oats
330g/ 1½cups water
Pâte Fermentée
350g/ 3 cups bread flour
190g/ 6.3oz water
1 tsp. Salt
¼ tsp. instant dry yeast
Final Bread Dough
450g/ 1 lb Bread flour
260g/ 9oz water
1 tbsp. Salt
15g/ 1½ tsp dry yeast
Instructions
1
Soaker
,
Boil the water
Place all the soaker ingredients in a bowl and pour over the boiling water.
place the soaker in a cool place overnight, (it needs at least 4 hours).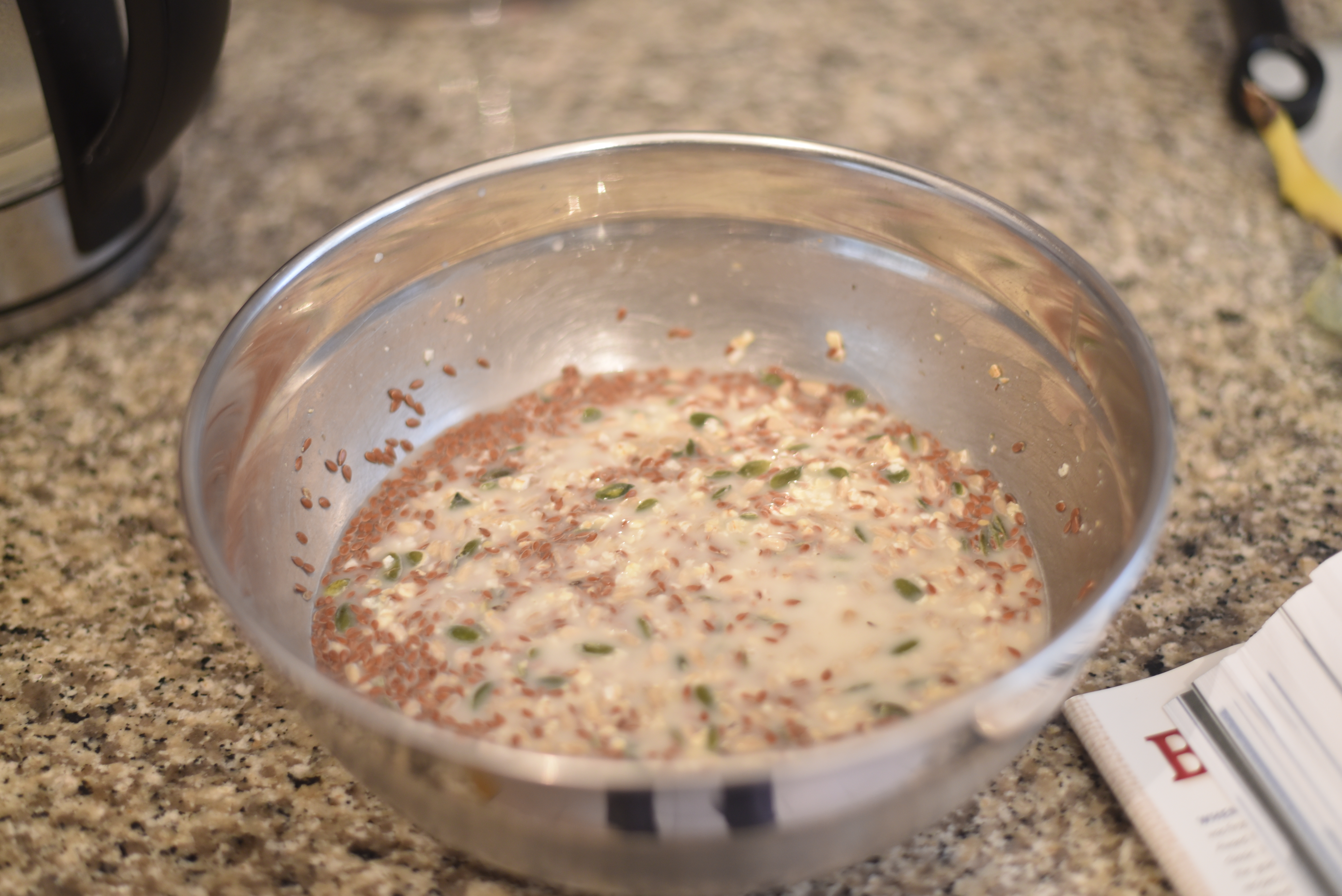 2
Pâte Fermentée
,
Disperse the yeast in the water, add the rest of the Pâte Fermentée ingredients, mix well and set aside covered in room temperature for about 15 hours.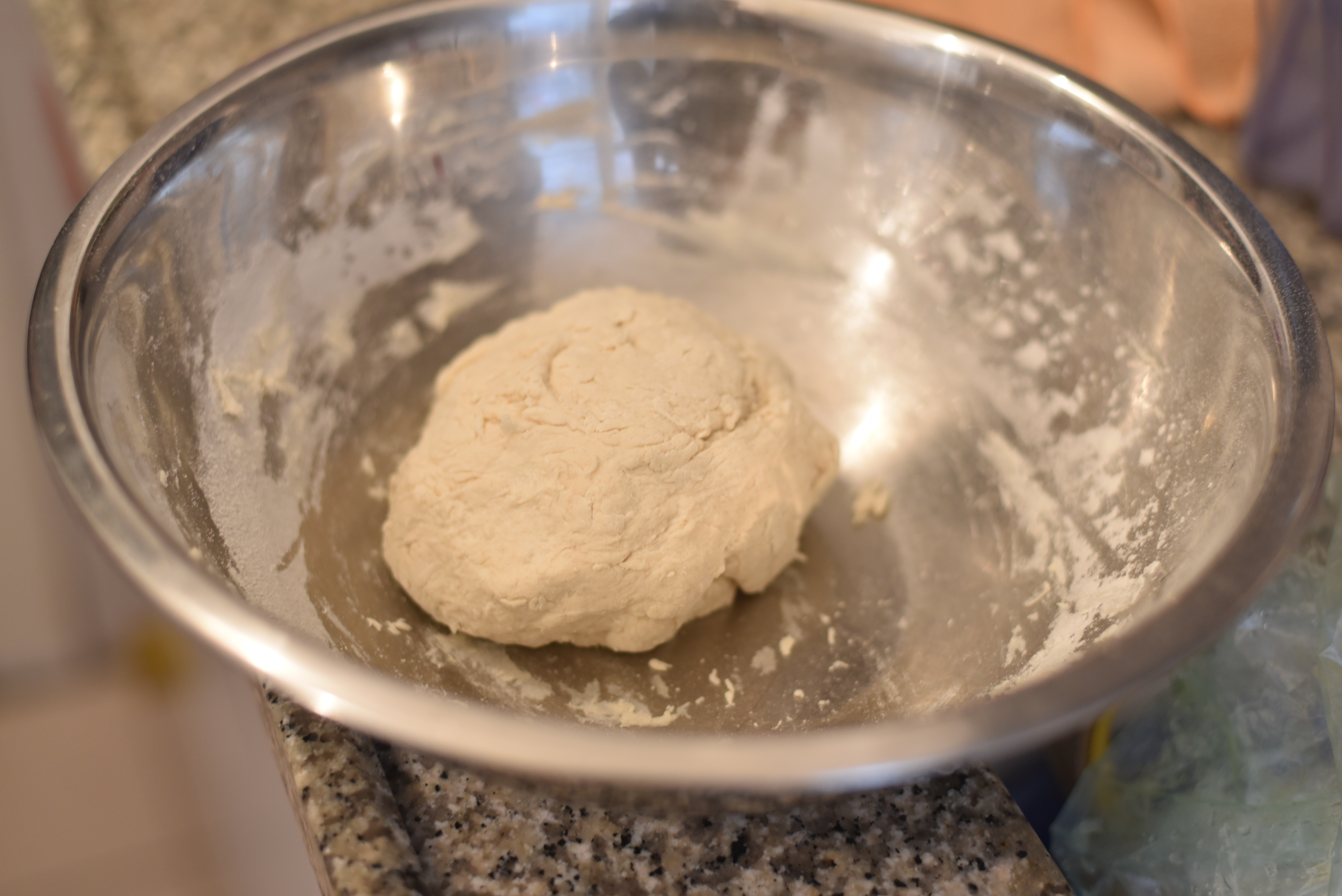 3
Place all the ingredients of the final dough plus the soaker (not the Pâte Fermentée) in a bowl of a stand mixer fitted with the hook attachment.
Mix on low speed for 3-4 minutes until incorporated and add the Pâte Fermentée in chunks.
Correct the hydration level by adding flour or water.
Increase speed to medium and mix for another 4 minutes.
The dough should be flexible and a bit wet, cover the dough with a plastic wrap
Bulk fermentation: 2 hours.
Place the dough on a floured surface and knead for 1 minute
Proof the dough for 1 more hour.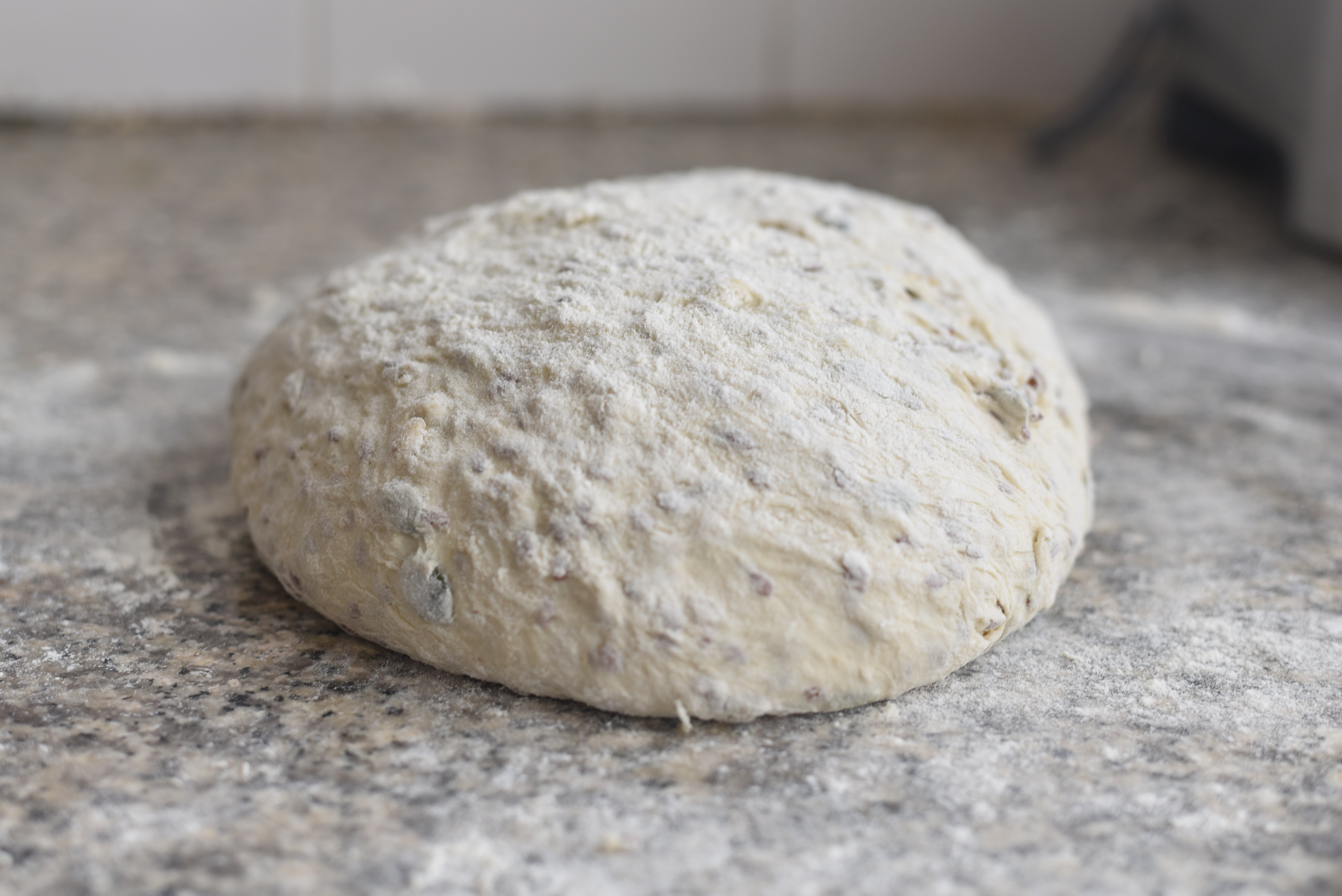 4
Divide the dough into 2 equal pieces.
Flatten each part with your hands and fold into an oval shape.
Place the bread loaves on a baking pan.
Cover and proof for 1 more hour.
5
Preheat the oven to 230°c/460°F.
Before inserting the loaves, throw a few ice cubes on the bottom of the oven.
Bake the loaves for 30 minutes, reduce heat to 200°c/400°F and bake for 20 more minutes.
Take out the bread and cool on a rack for 30 minutes.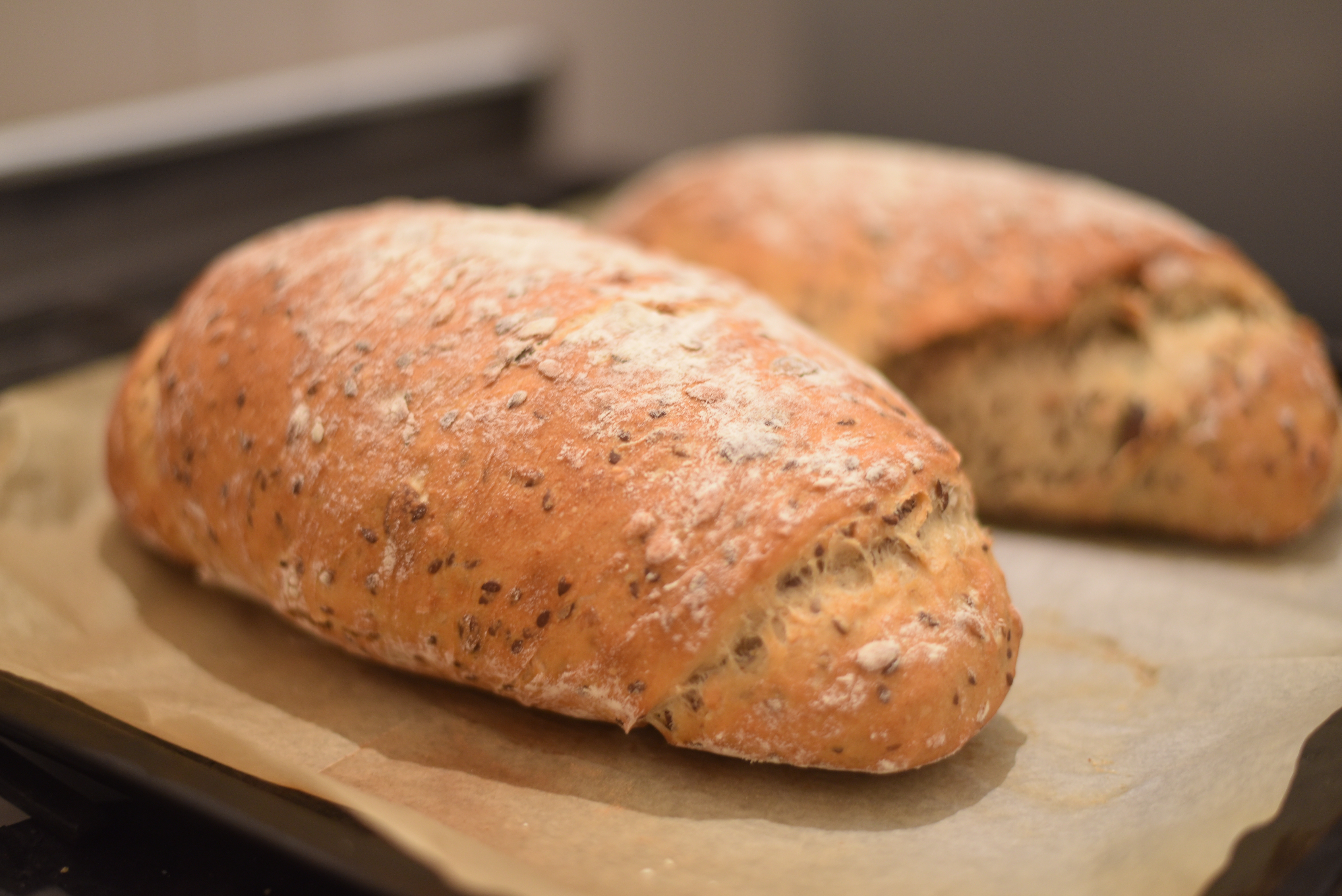 Summary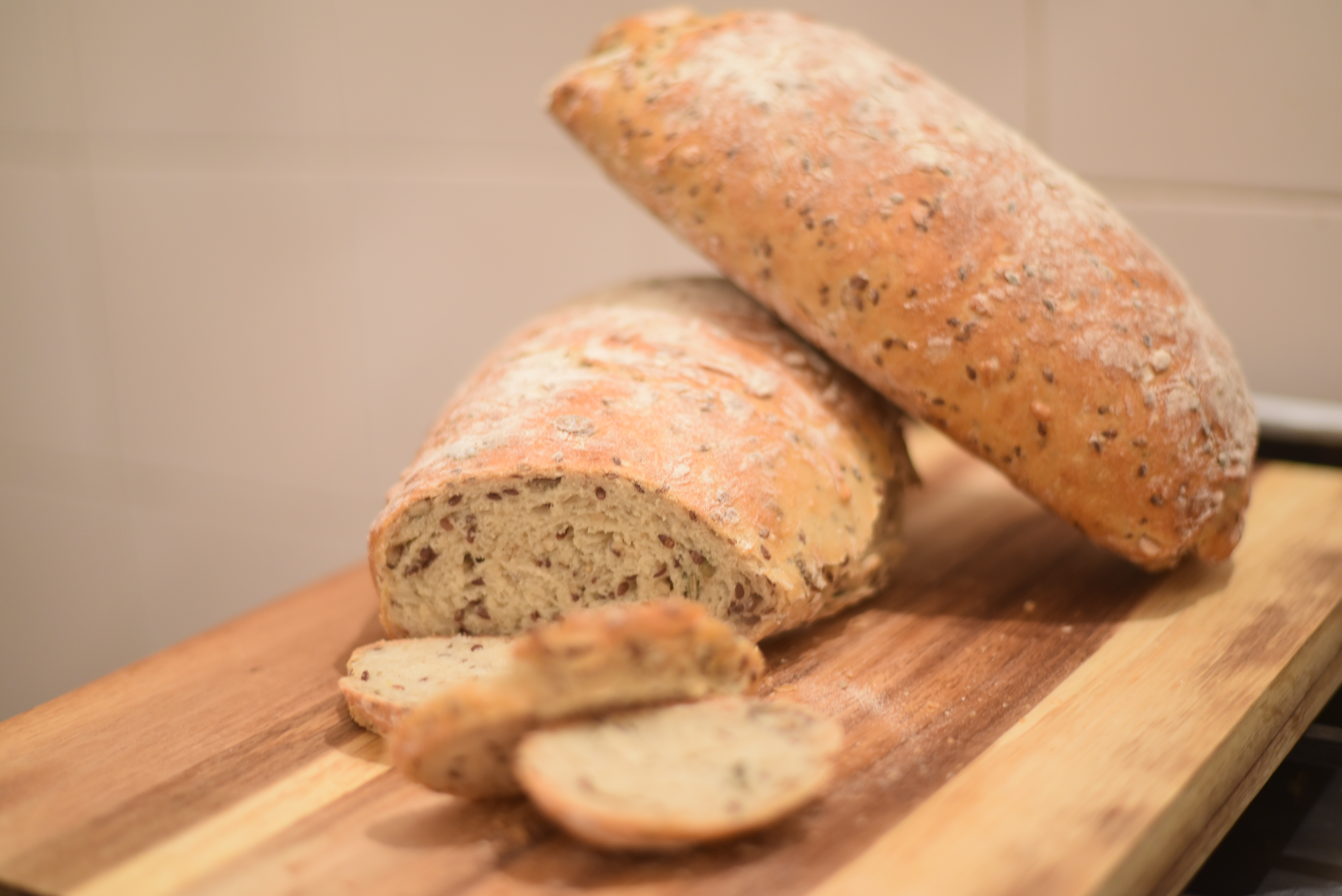 Recipe Name
Published On
Preparation Time
Cook Time
Total Time
FPB_Admin