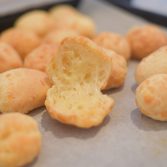 Pão de Queijo (Brazilian cheese buns)
If you're into cheese roles you will most definitely love the Pão de Queijo, the

 

Brazilian cheese buns.
I can't explain the exact texture of this bread, it's crispy and airy full of small holes and has a texture of something between a bubble gum and soft brioche, absolutely addictive, don't say I didn't warn you!
Pão de Queijo basics
The bun is made out tapioca flour which is a strange kind of flour for bread because of its gelatinous nature in becoming very sticky when mixed with any liquid, in this case the warm milk.
Don't get despaired, even when you see a big lump of bubble gum in your saucepan, you will be rewarded for this big time. The buns are filled with air inside the oven because of the steam generated of its liquids evaporating and you will end up with a texture that resemble swiss cheese with the multiple holes, ohhh did I mention it's 100% gluten free? that's the bonus for this great puffs.
Getting the work done
Making of the Pão de Queijo resemble a bit the making of the French Pâte à Choux, similar procedure we are giving our eclairs, puffs and Gougères which are perhaps the Pão de Queijo closest relative.
We start by creating a roux with milk, oil and tapioca flour, mixing it vigorously until it forms into a loose broken dough.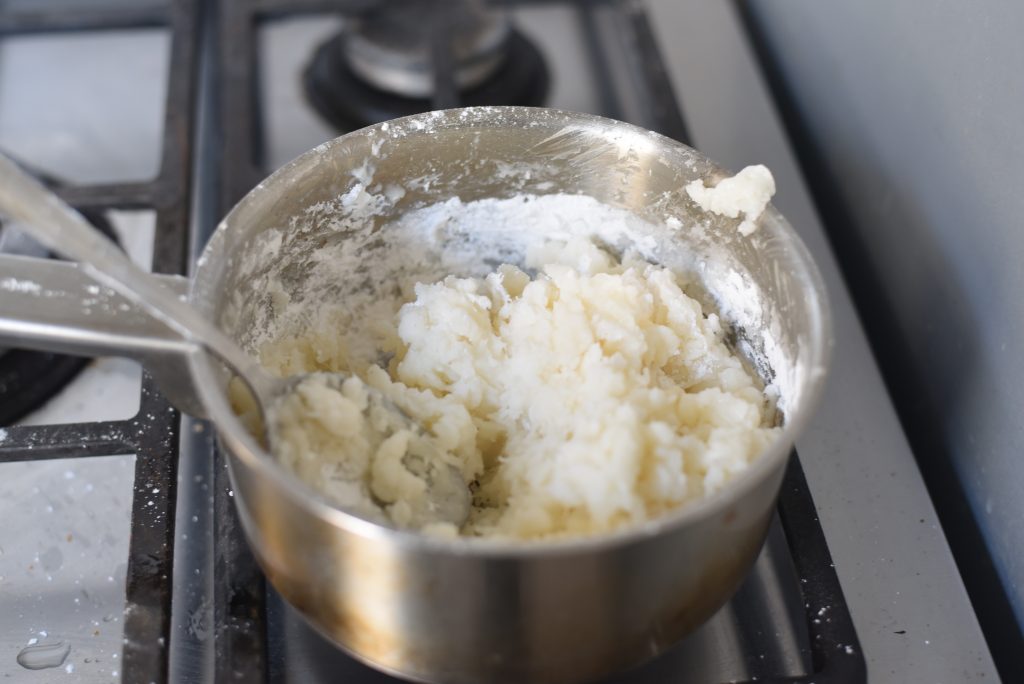 The second step is to add the eggs into the roux, the dough in this stage is pretty dry and needs to be softer in order for it to form into a kind of dough we can shape. I strongly recommend doing the second step of mixing with a stand mixer, it will make your life much easier, this dough is quite a workout if kneaded by hand. Of course, you can claim that the Brazilian authentic Pão de Queijo in brazil is hand mixed and you'll be right, but I have to say that if you want better results use a mixer… and a strong one.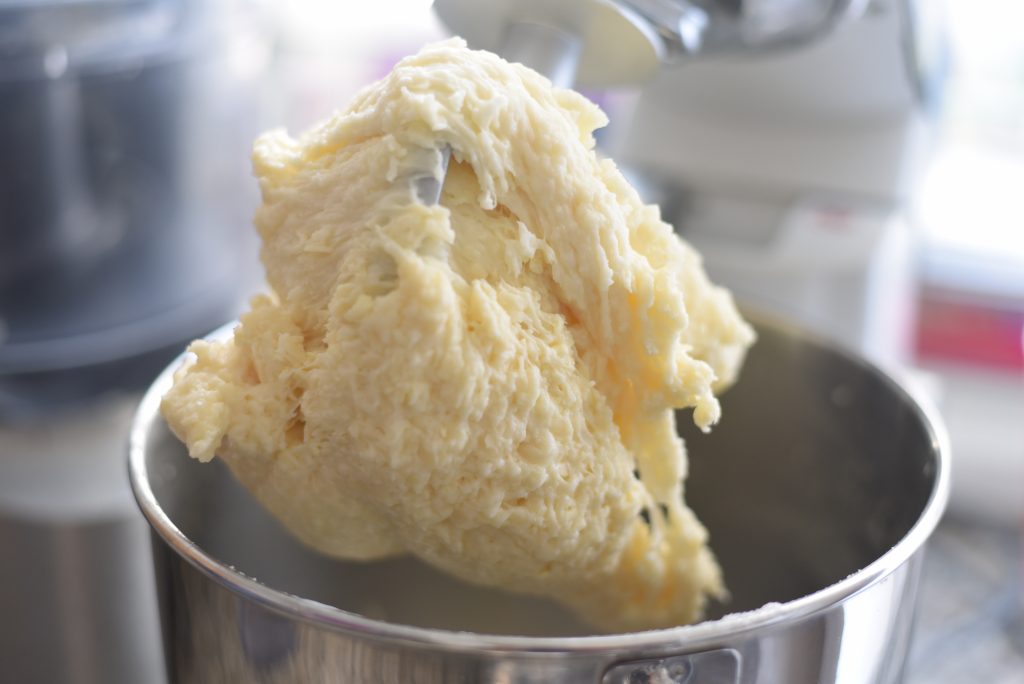 The cheese is added at the last stage of mixing, i want it to keep some of its flaky shape and not to get grind completely by the dough.
Shaping the Pão de Queijo
This dough is sticky and you'll find yourself trying desperately trying to turn the tap with your elbow in order to wash your hands or finding a paper towel to wipe out this glue-like dough, don't say I didn't warn you…
To avoid the above, place a bowl with water beside your dough when shaping the buns and wash your hands with the water from time to time, this will ensure a faster shaping and minimal stickiness in your hands.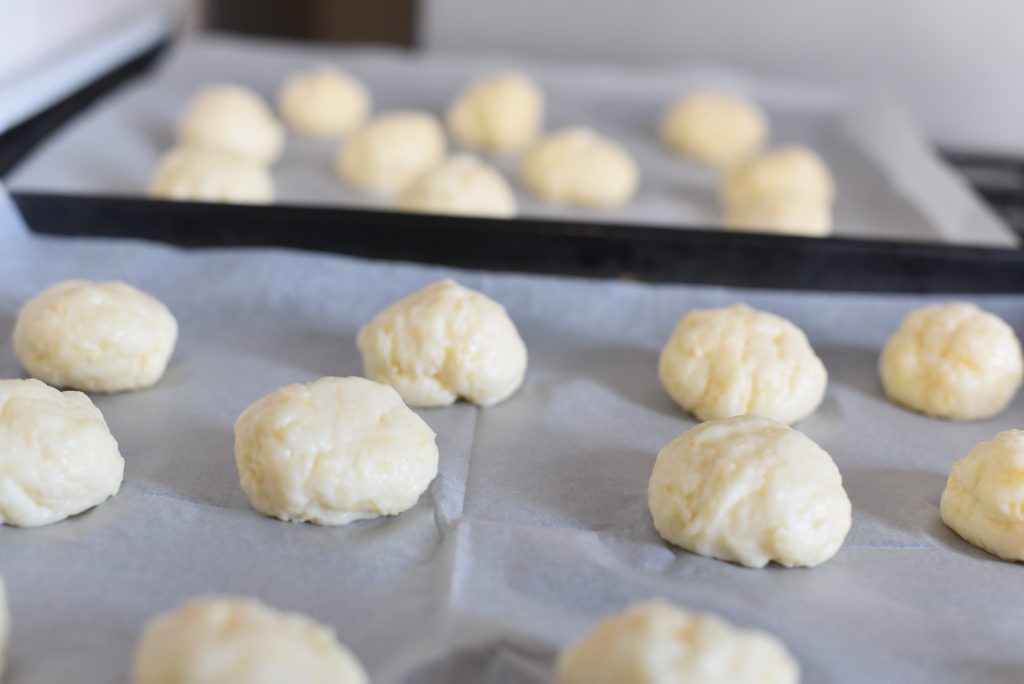 Baking is set to 180°c/360°F, the amount in this recipe usually yields 20-24 small buns so it means two trays, if you want to bake them together as I do, place the oven on turbo and reduce temperature to 170°c/340°F and bake both trays together, rotating them half time for even baking.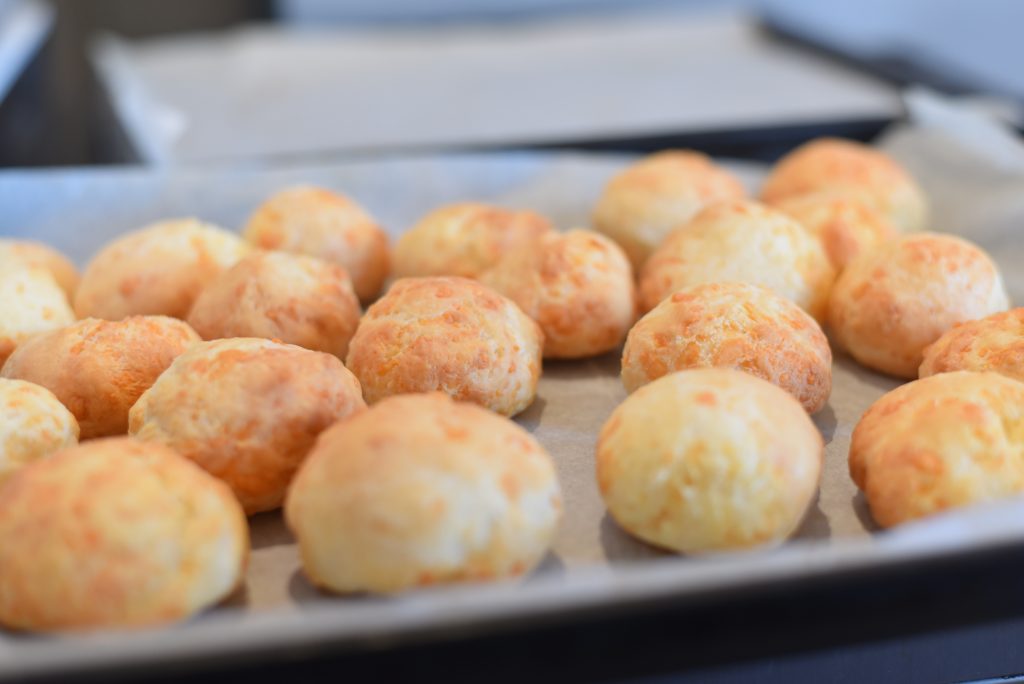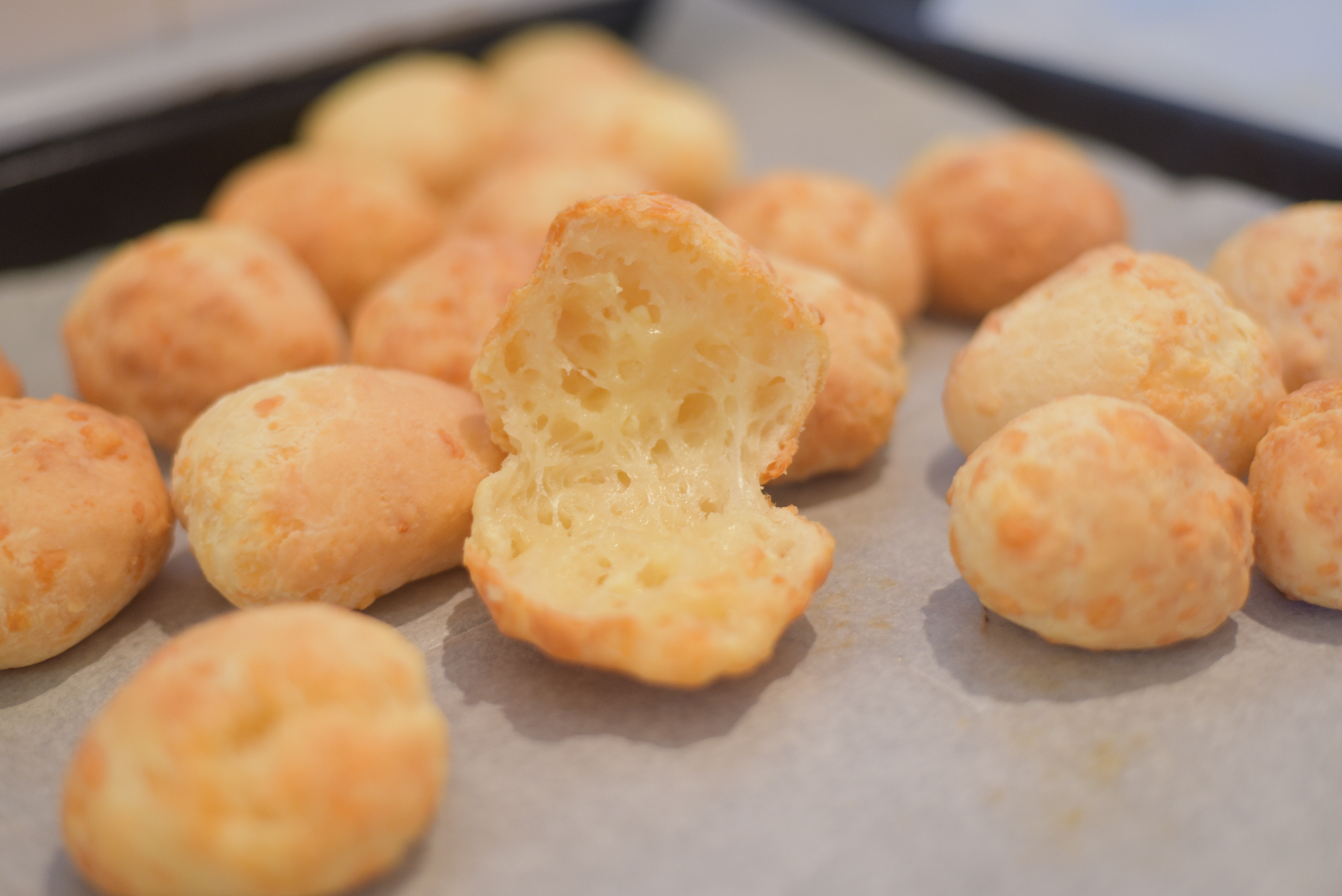 Ingredients
170ml/ 2/3cup Milk
100ml/½cup vegetable oil
360g/12½ oz. Tapioca flour
1 cup grated Parmesan or Gouda cheese
1/2 cup grated Mozzarella cheese
3 tbsp. Cream cheese
2 medium Eggs
1 tsp. Salt
Instructions
1
Making the Roux
: In a medium sauce pan combine the milk and oil and bring to a gentle simmer.
Reduce heat to low and add the flour, mix the roux for another minute, it will be grainy and lumpy, it's OK.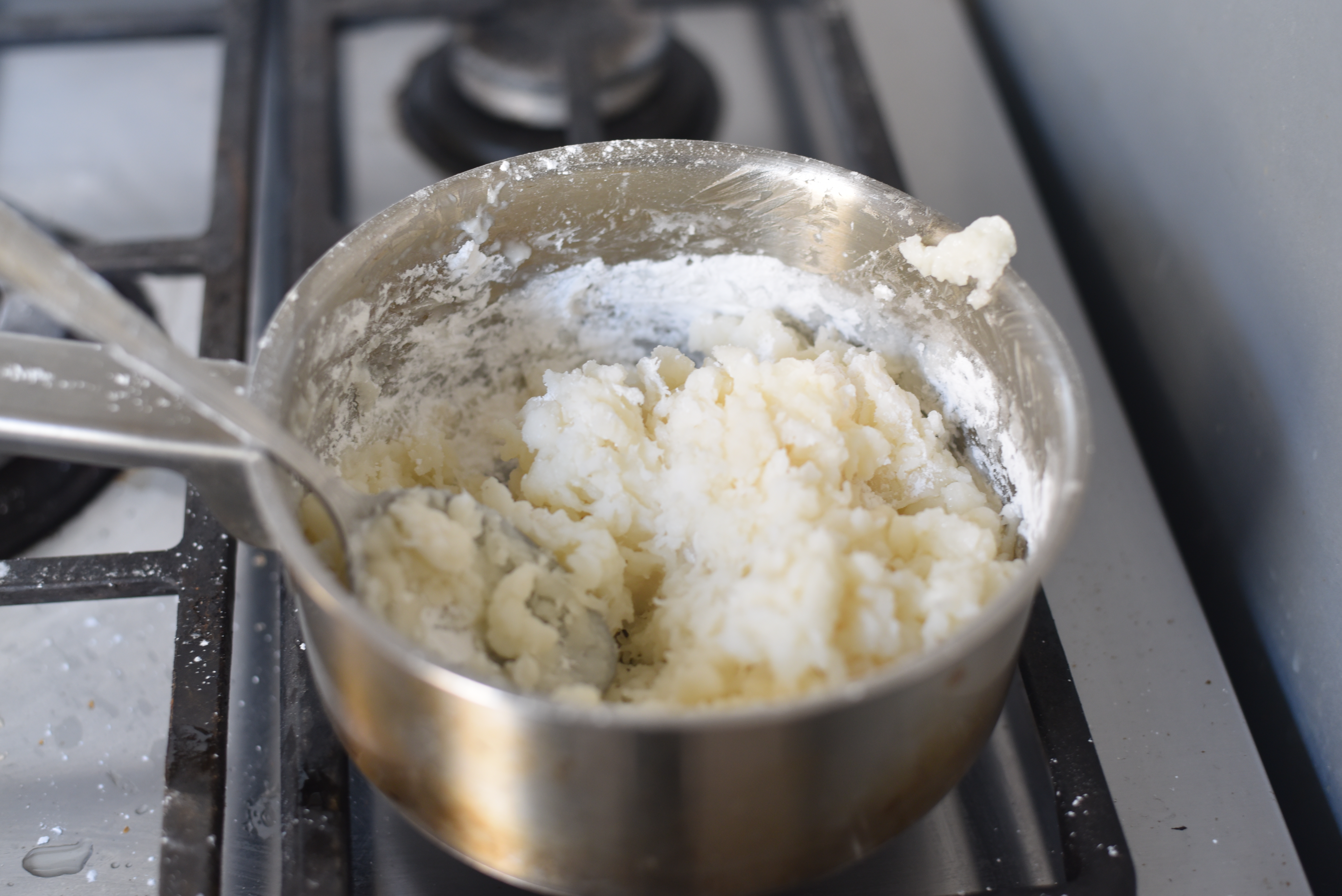 2
Mixing the dough
: In a bowl of a stand mixer, add the roux, it's still hot so give it a 1 minute mix on low speed just to cool it down.
Increase speed to medium and add the eggs, one at a time, only after one is completely absorbed in the dough add the next.
add the cream cheese and salt and mix for another minute.
Pour the grated cheese to the mixer bowl and mix for about 30 seconds, just until the cheese is fully incorporated in the dough.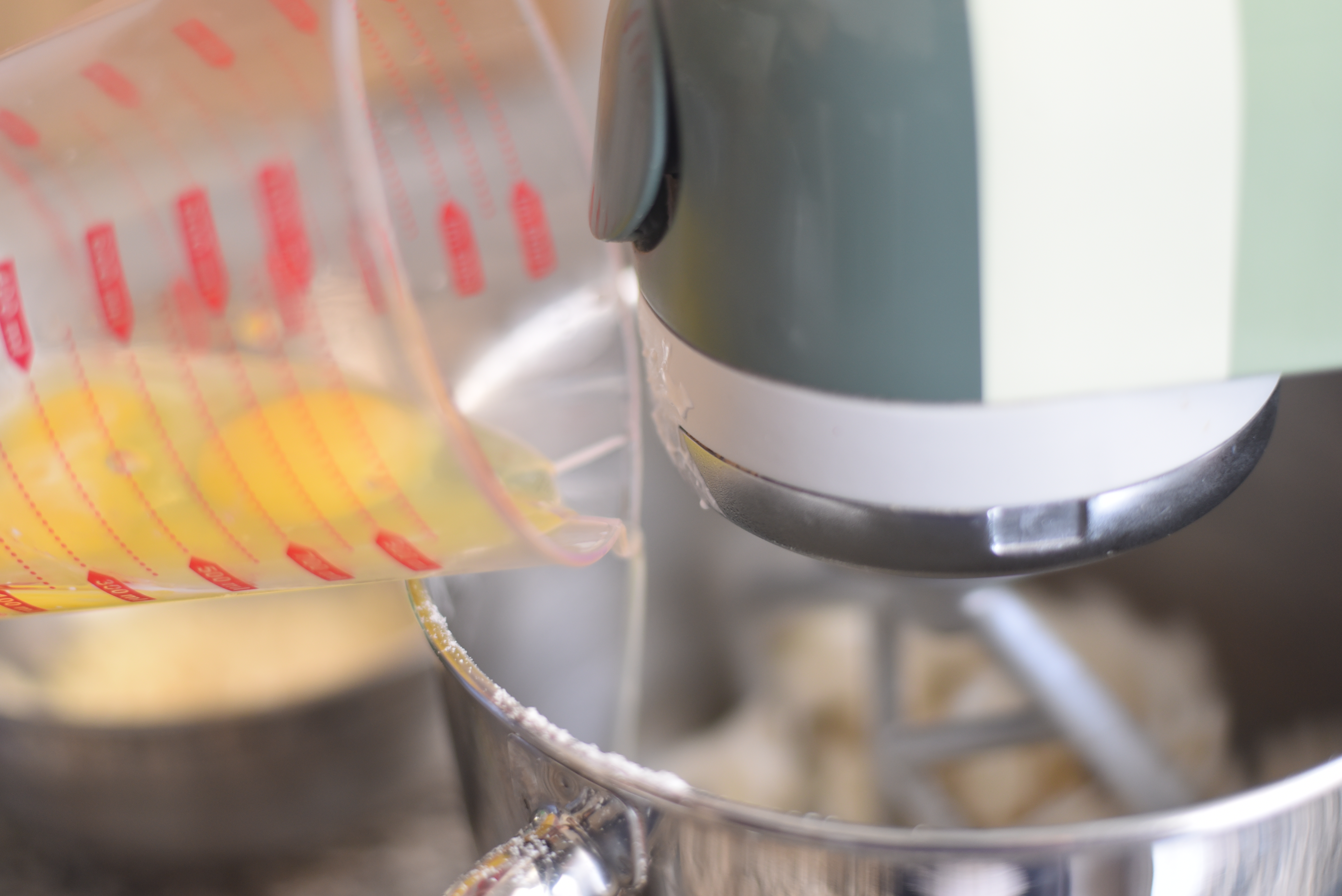 3
Shaping and baking
: Preheat the oven to 170°c/340°F to turbo function. Set 2 baking pans with parchment papers, and fill a small bowl with water (it will help to roll and shape the puffs).
Make some 30-50 grams' small buns 2 inch apart, from time to time dip your hand in the water bowl to avoid stickiness.
Bake the puffs for 30 minutes (2 trays together) rotating the trays halfway for an even bake.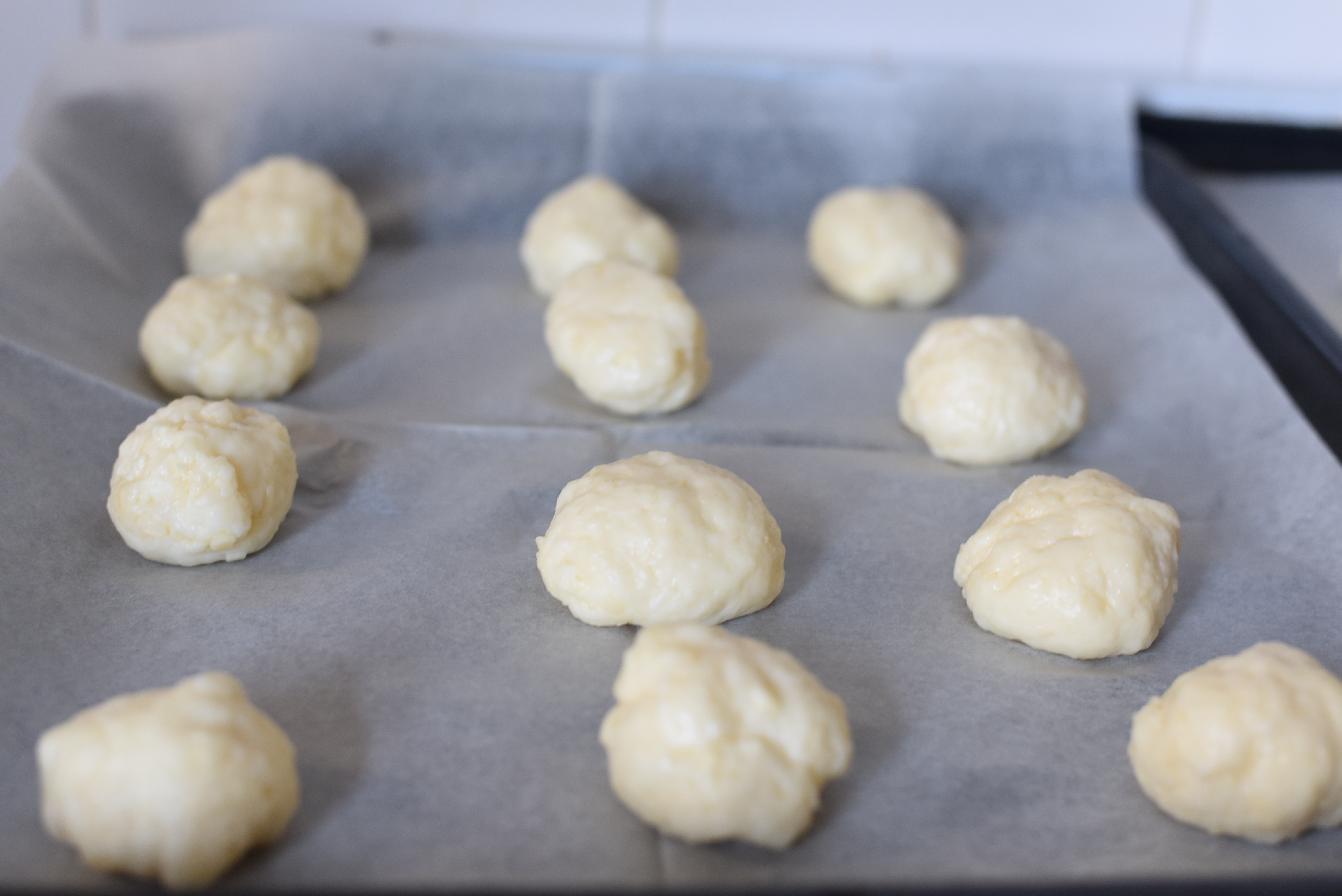 4
Cool on the pan for 10 minutes and serve. The buns can be kept in the fridge for up to 3 days, in the freezer for a month… but …in 99% of the time I made these cheese buns they didn't last 1 hour before disappearing.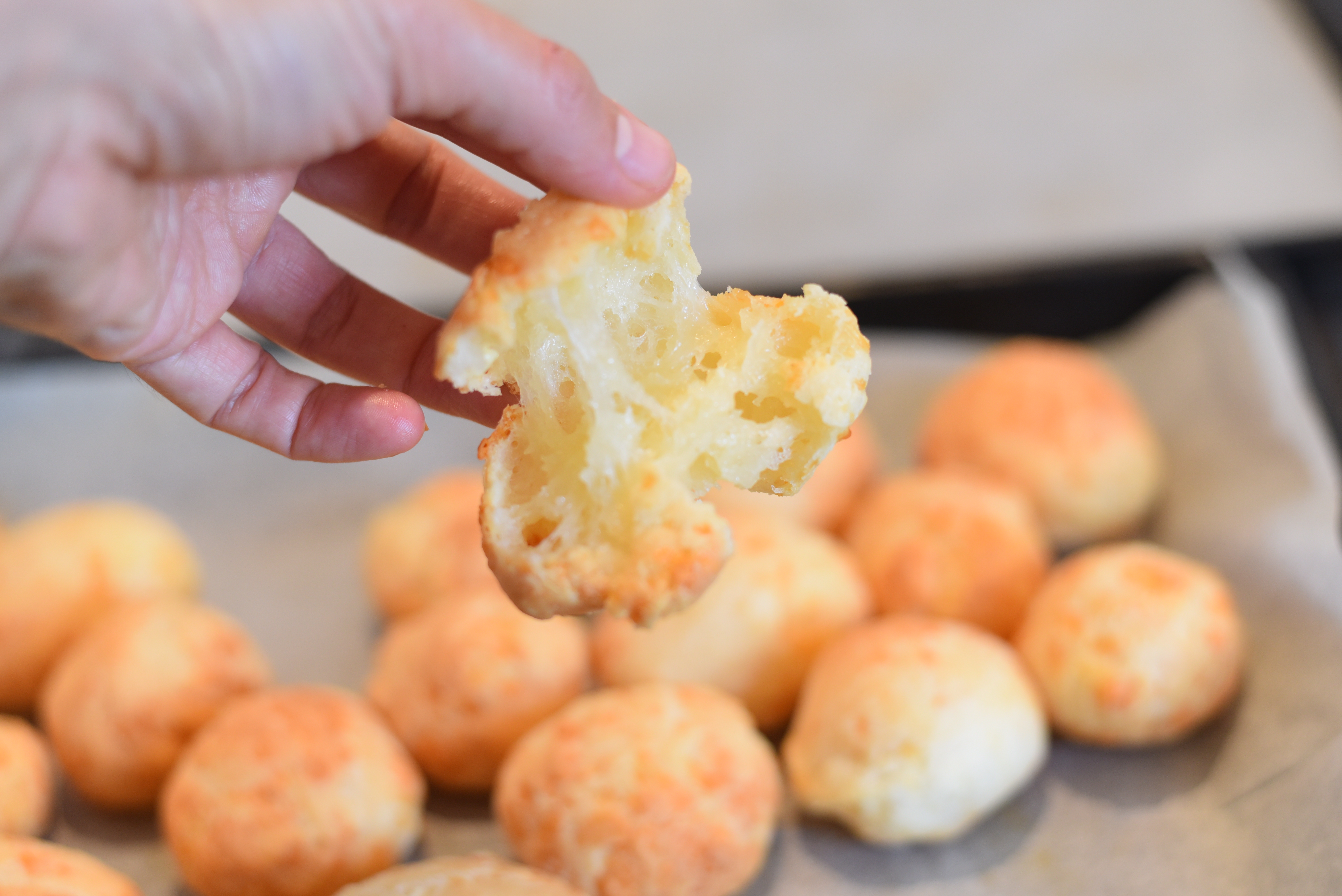 Summary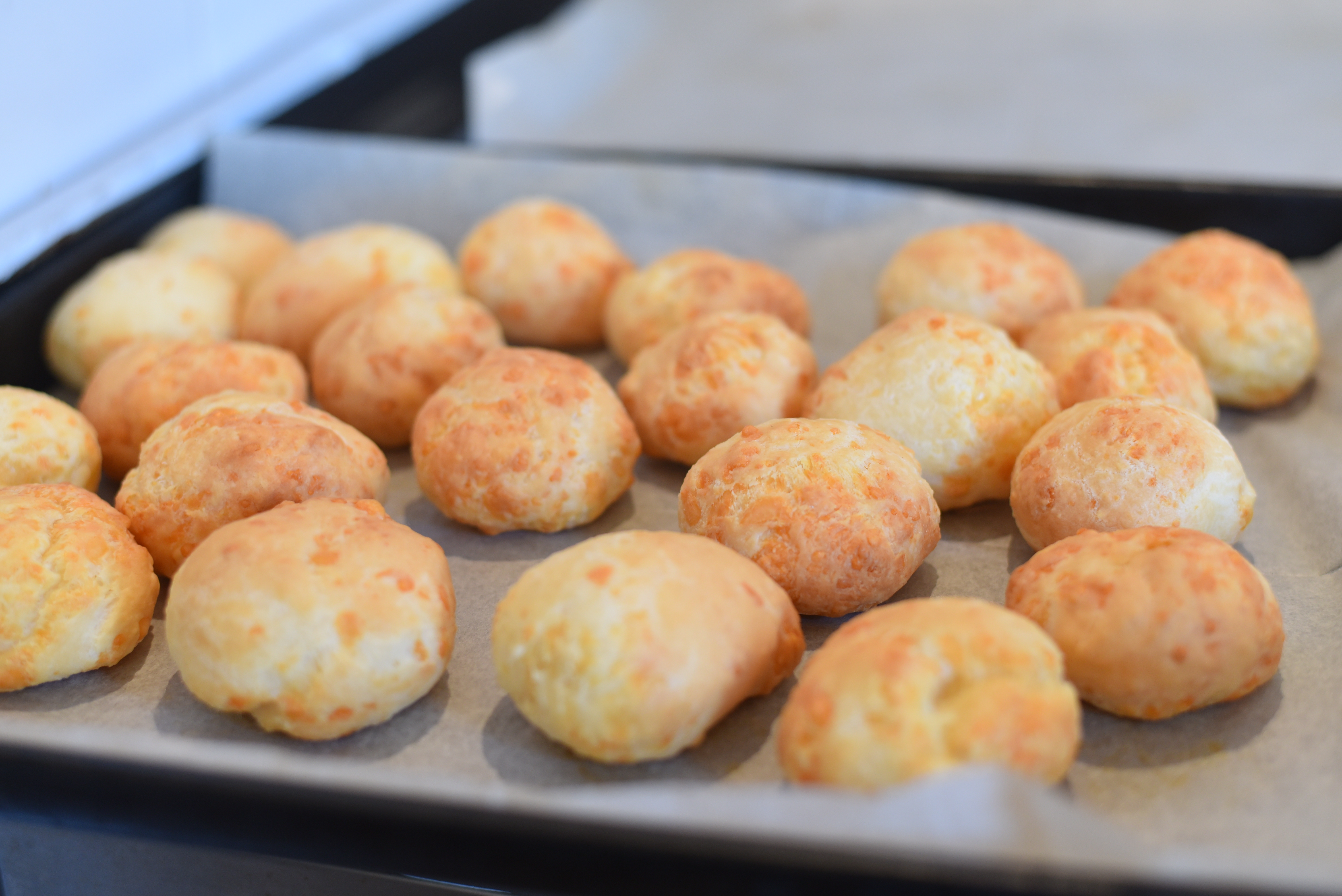 Recipe Name
Published On
Preparation Time
Cook Time
Total Time
FPB_Admin