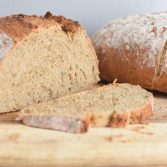 Mung beans whole-wheat bread
I know what you have on mind when you hear the title of this, mung beans bread, immediately a dense thick bread image is coming up, not this time.
If any, this bread is nothing but dense, it's airy and tender on the inside with a thick crust on the outside. The mung beans, to be accurate, it's mung beans sprouts, blended with pumpkin seeds and quick oats are a great source of fibers and a rich nutty flavor.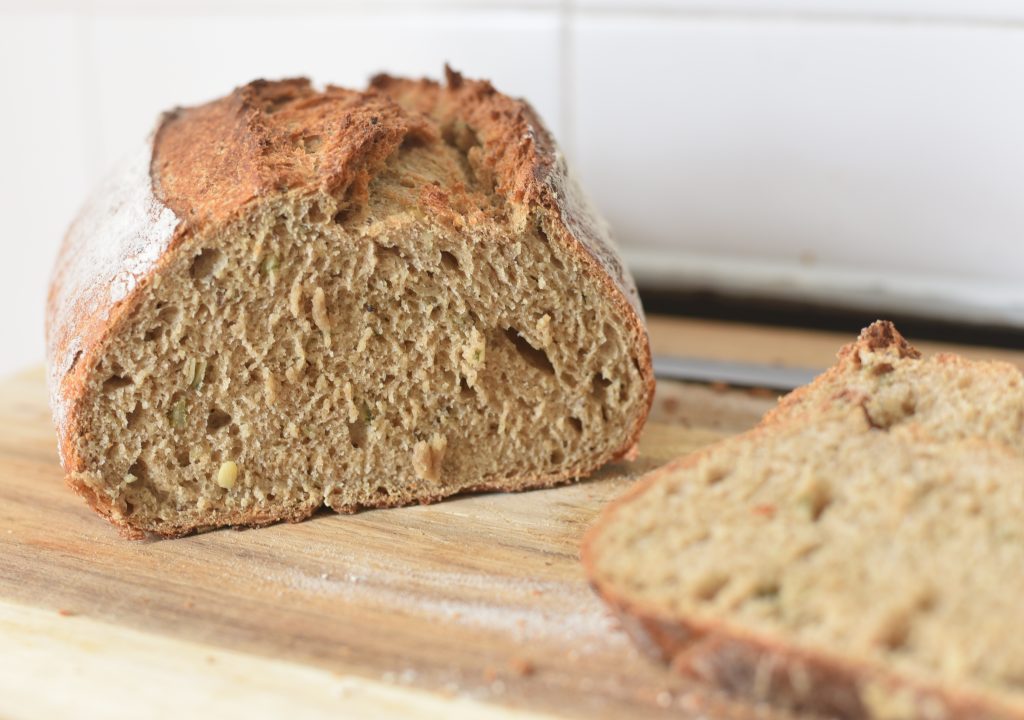 Mung beans sprouts
It might sound strange getting mung beans inside a bread but the truth is, beside all its nutritional additions, it's just delicious, the nutty fresh flavor of the mung beans gives the bread almost a pre-yeasted grain feeling and adds another layer of taste.
Sprouting mung beans is easy, just place them in a bowl of water, just barely covering the beans and cover with a towel for the night, lack of light is essential for the beans to sprout. Replace the water of the beans every 12 hours for about 1-2 days and you have mung beans sprouts. If you want them to sprout a bit more keep the bowl and replace the water for the 3rd day as well. The sprouts can be kept in the fridge for up to 4 days fresh and crispy.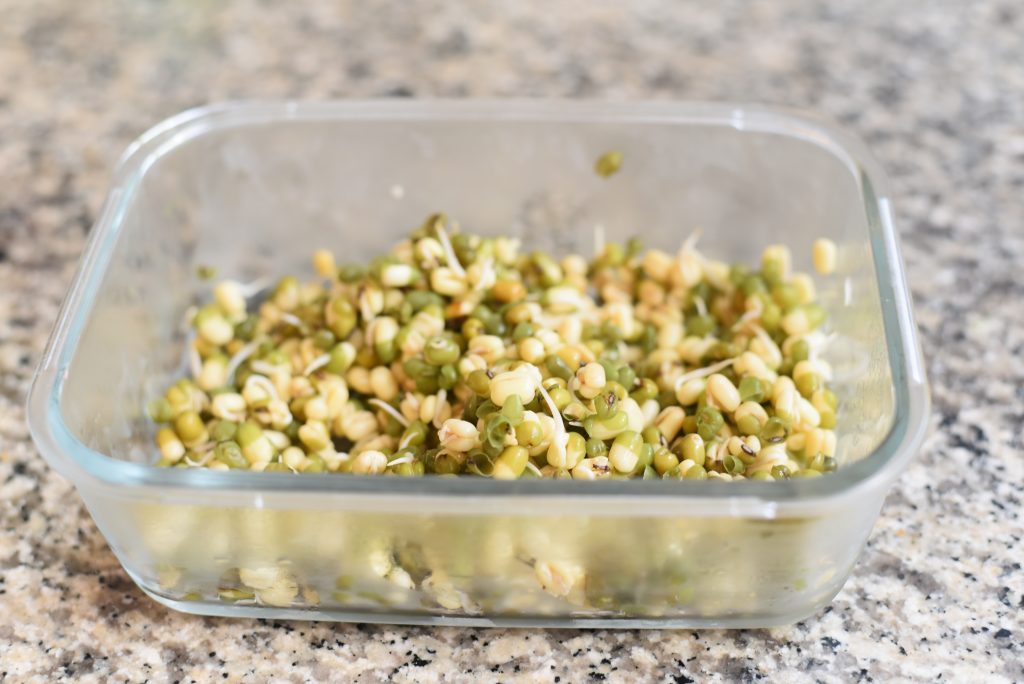 Mung beans bread road to success
When it comes to flavor in breads without a proper sourdough, some kind of preferment is crucial in order to gain deep flavors. In the mung beans bread I have used Pâte Fermentée which is a dough made 12-16 hours prior to the main bread and contain a proper yeast activity.
The other flavor factor is the mashed mung beans sprouts, pumpkin seeds (roasted or raw) and quick oats, we mash them into a paste (doesn't have to be super smooth) and add this amazing paste to the bread.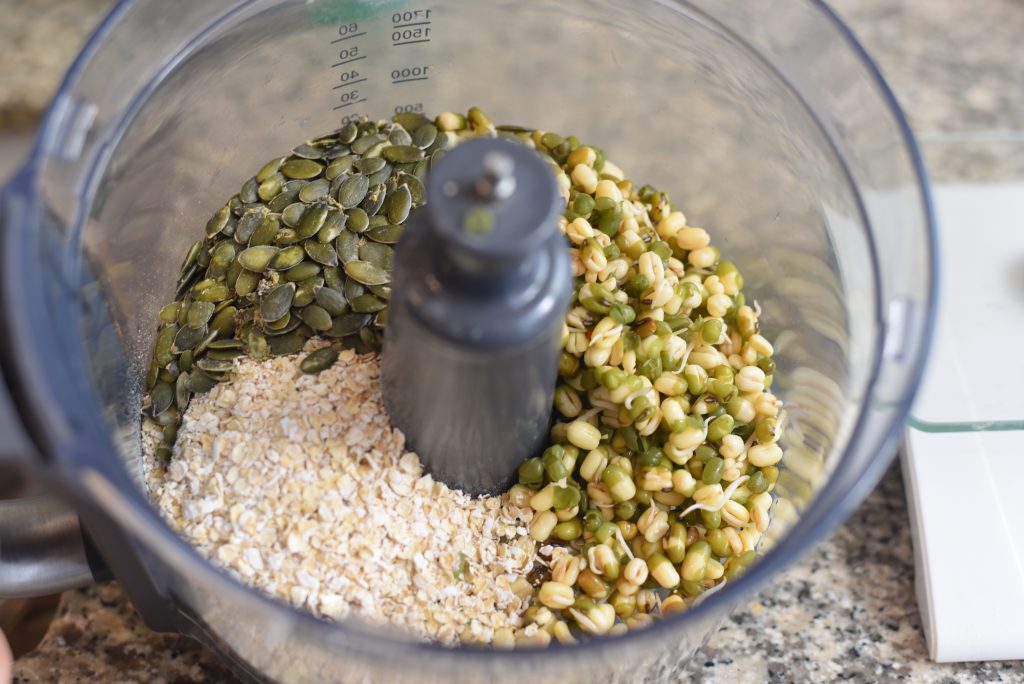 You will need to keep a close look for the bread hydration and adjust water or flour if needed because by adding mung beans, we need to keep in mind that they contain fluids and take under consideration refrigeration factor which adds fluids as well.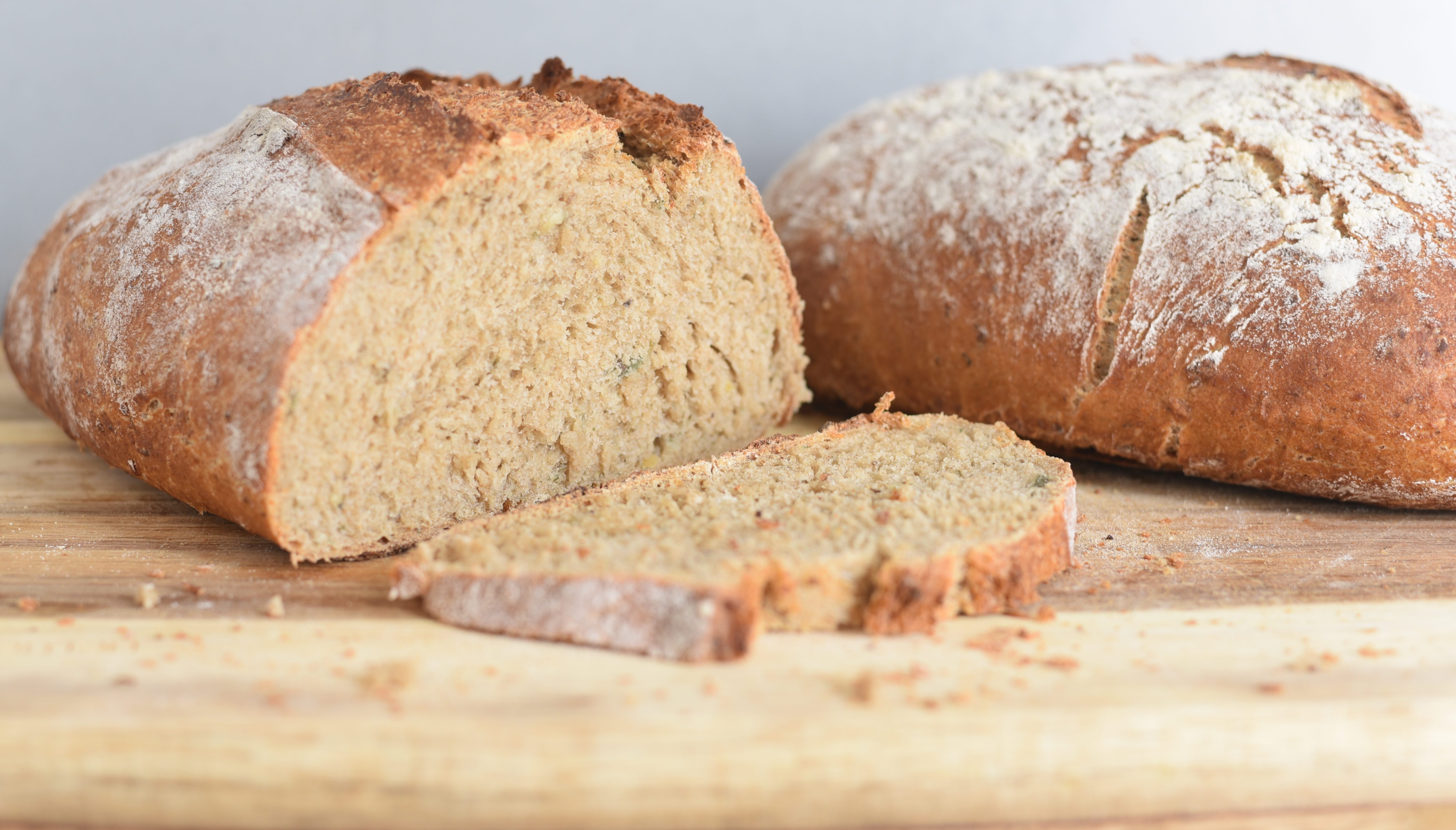 Ingredients
Pâte Fermentée
270g/ 9.6oz. Whole-wheat flour
175g/ 6.2oz. Water
1 tsp. Salt
Pinch of dry yeast (1/8 tsp.)
Beans and Seeds mash
400g/ 14oz. sprouted mung beans
55g/ 2oz. pumpkin seeds
55g/ 2oz. quick oats
Final Dough
450g/ 1lb. bread flour
180g/ 6.4 oz. whole-wheat flour
510g/18 oz. Water
2½ tsp. Salt
11g/ 0.4oz. dry yeast
Instructions
1
Pâte Fermentée
: Disperse the yeast in the water, add the flour and salt, mix until smooth and cover with a plastic wrap.
Leave on the counter for 12-16 hours.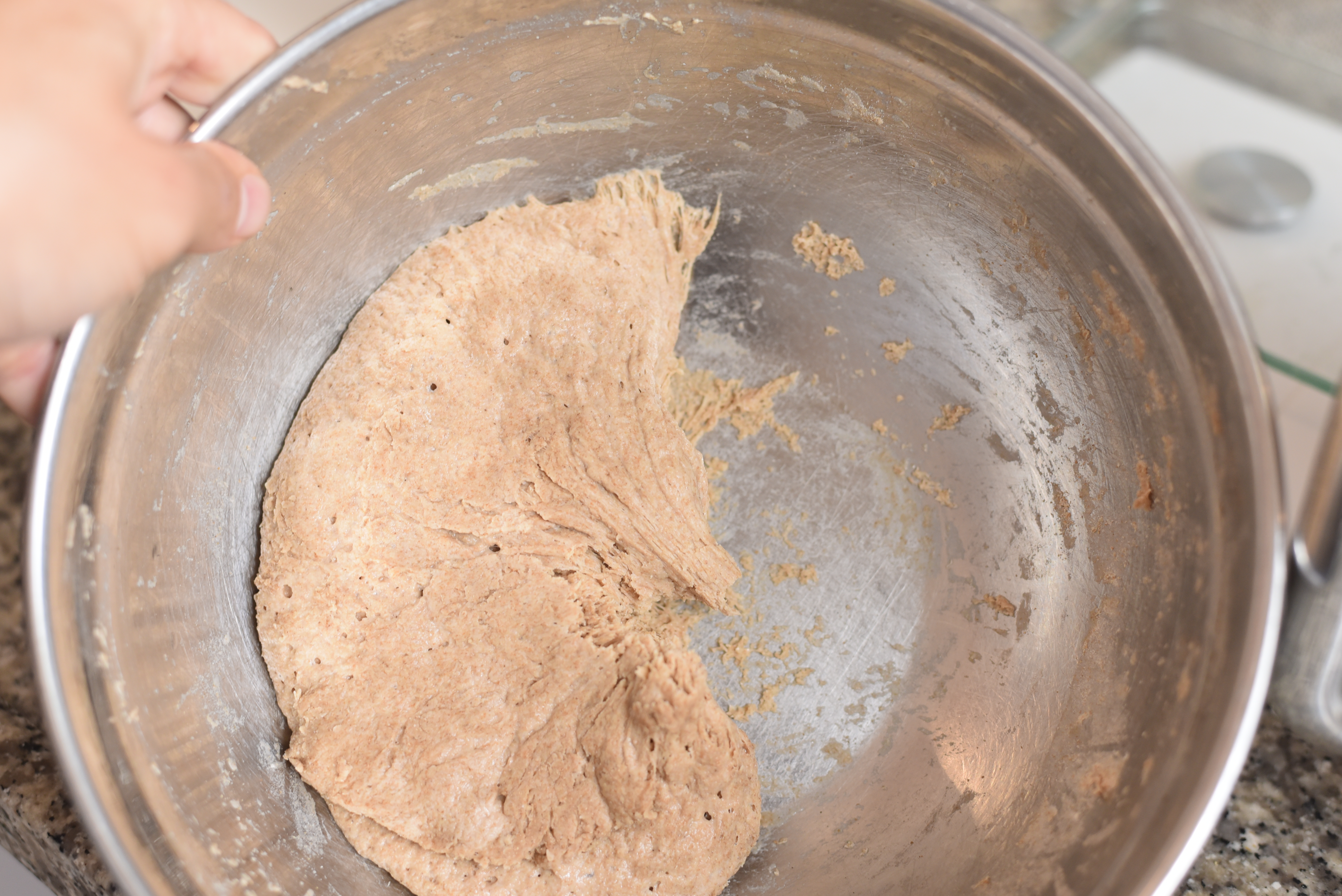 2
Beans and Seeds mash
:Place all the mash ingredients in a food processor and pulse into a mash, it doesn't need to be very smooth, I like it when it's a little grainy so it adds a nice texture to the bread.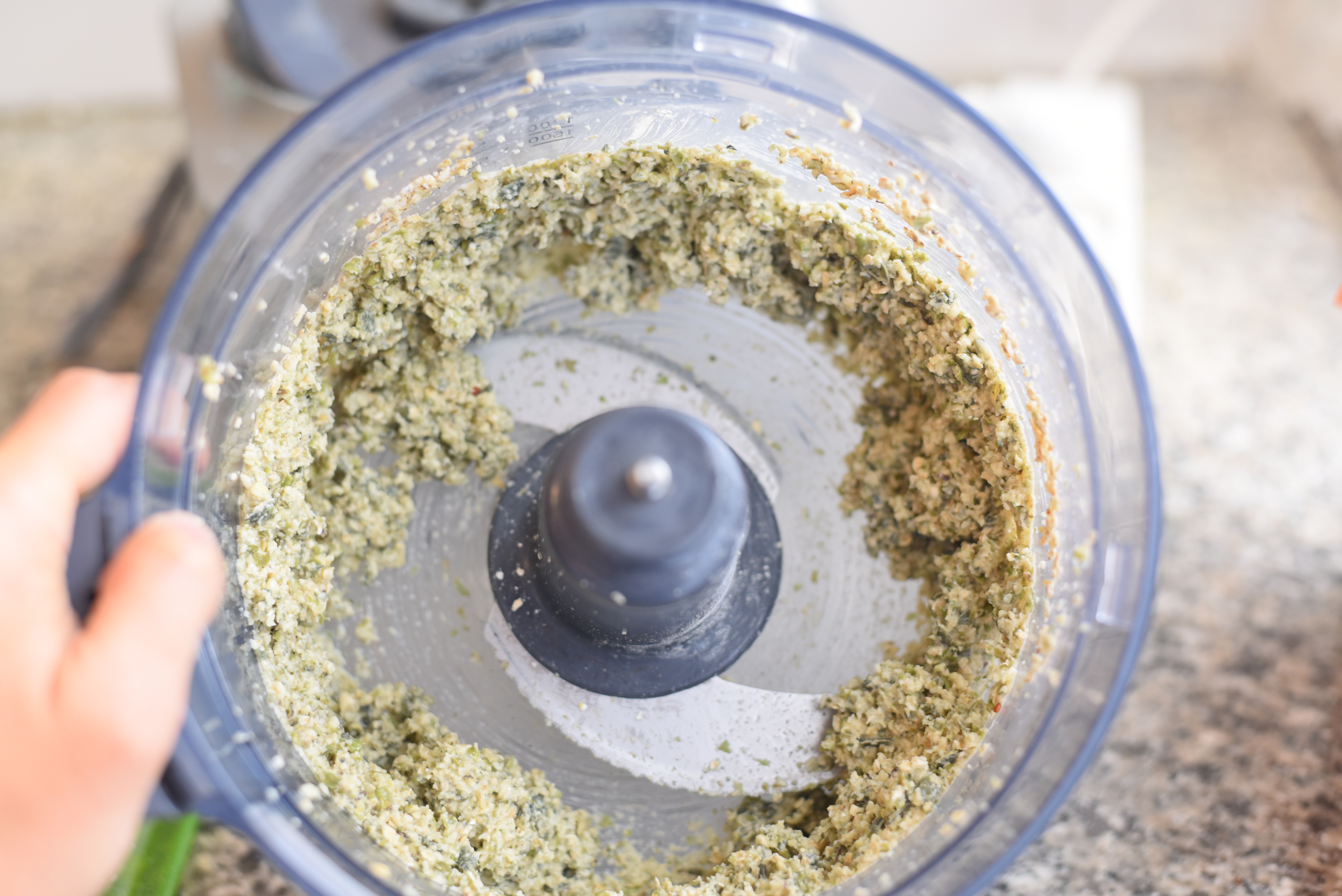 3
In a bowl of a stand mixer place the water and yeast with 2 tablespoons of the bread flour, let rest for 10 minutes and add the rest of the dough ingredients: the rest of the bread flour, the whole-wheat flour and the salt. Mix on low speed for 3 minutes until the dough is smooth, add the Pâte Fermentée in small chunks and mix for another 5 minutes on medium speed.
Fix hydration level if needed and add the mung beans and pumpkin seeds paste, mix for another minute just until the paste is fully absorbed in the dough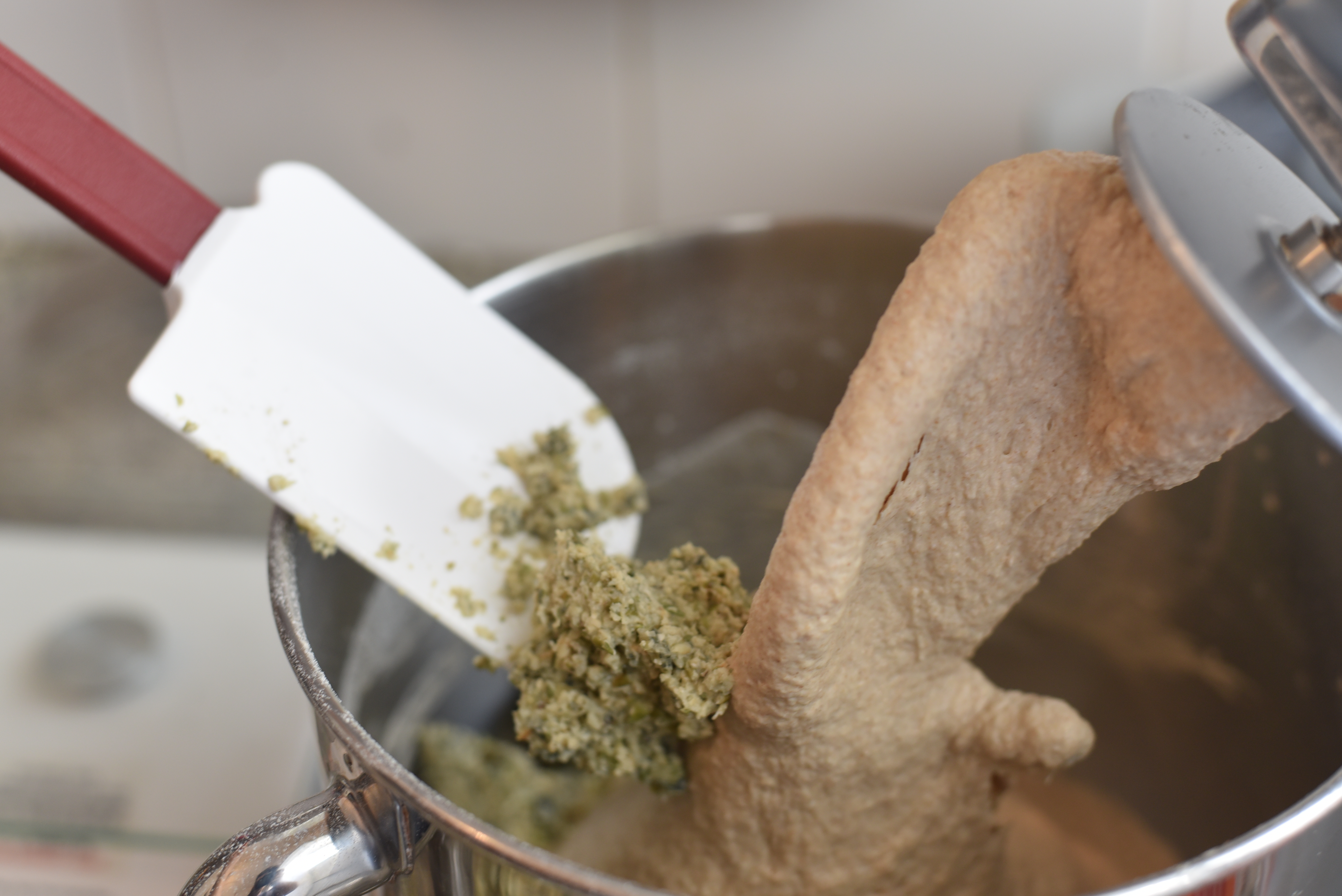 4
Cover the dough and let rest for 2 hours.
Fold the dough after 1 hour to add strength and after 2 hours pour the dough into a floured surface.
Divide the dough into 2 equal parts and shape each part into an oval shape.
place the loaves on a floured baking pan, cover and proof for another 1-2 hours.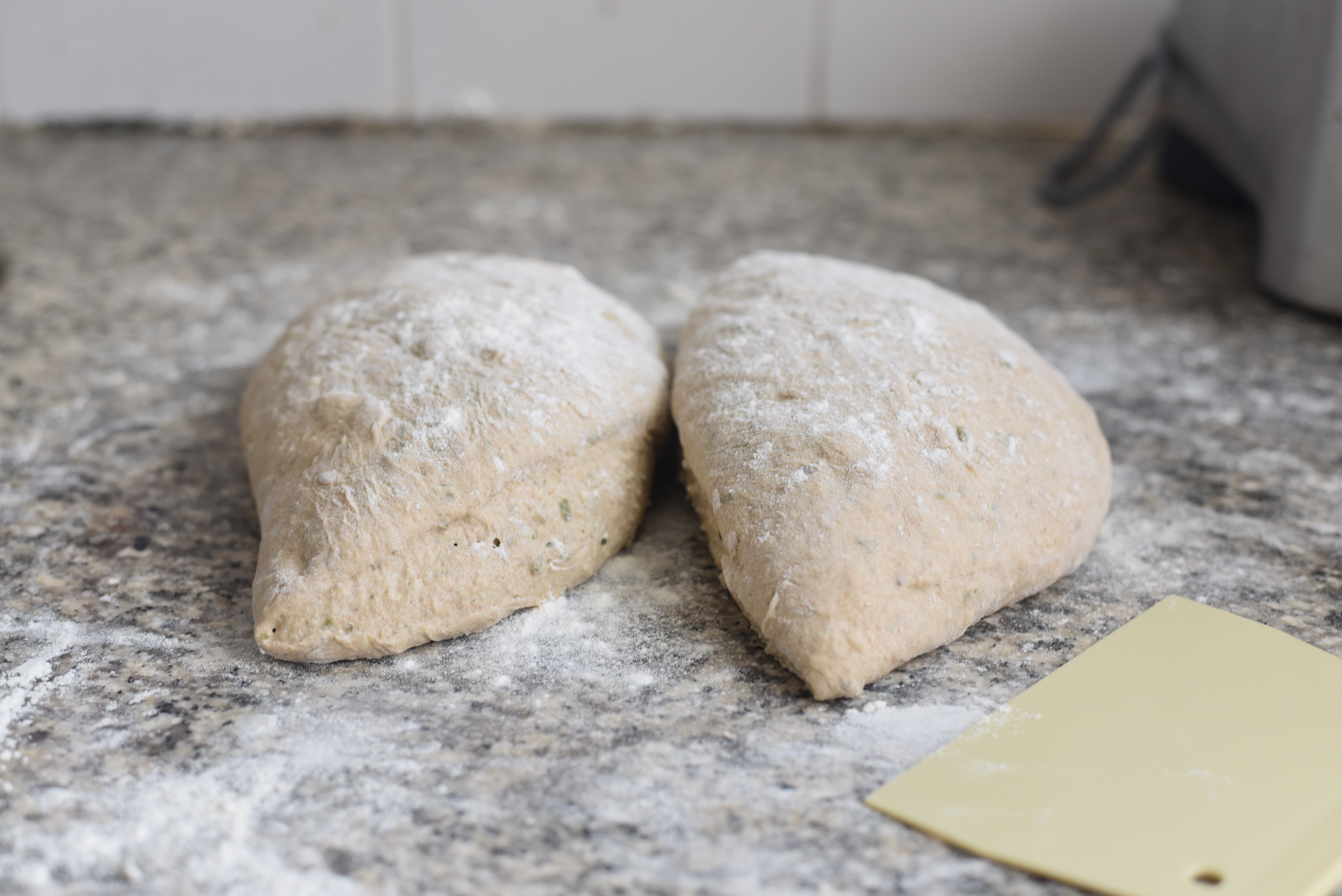 5
Preheat the oven to 230°c/450°F.
10 minutes before the oven reach its temperature, slightly flour the loaves and score each of them lengthwise, in addition, place a pan with water in the bottom of the oven to create steam and carefully remove the pan when we insert the loaves.
After 5 minutes of baking throw a few ice cubes in the bottom of the oven for additional steam and bake for another 40 minutes.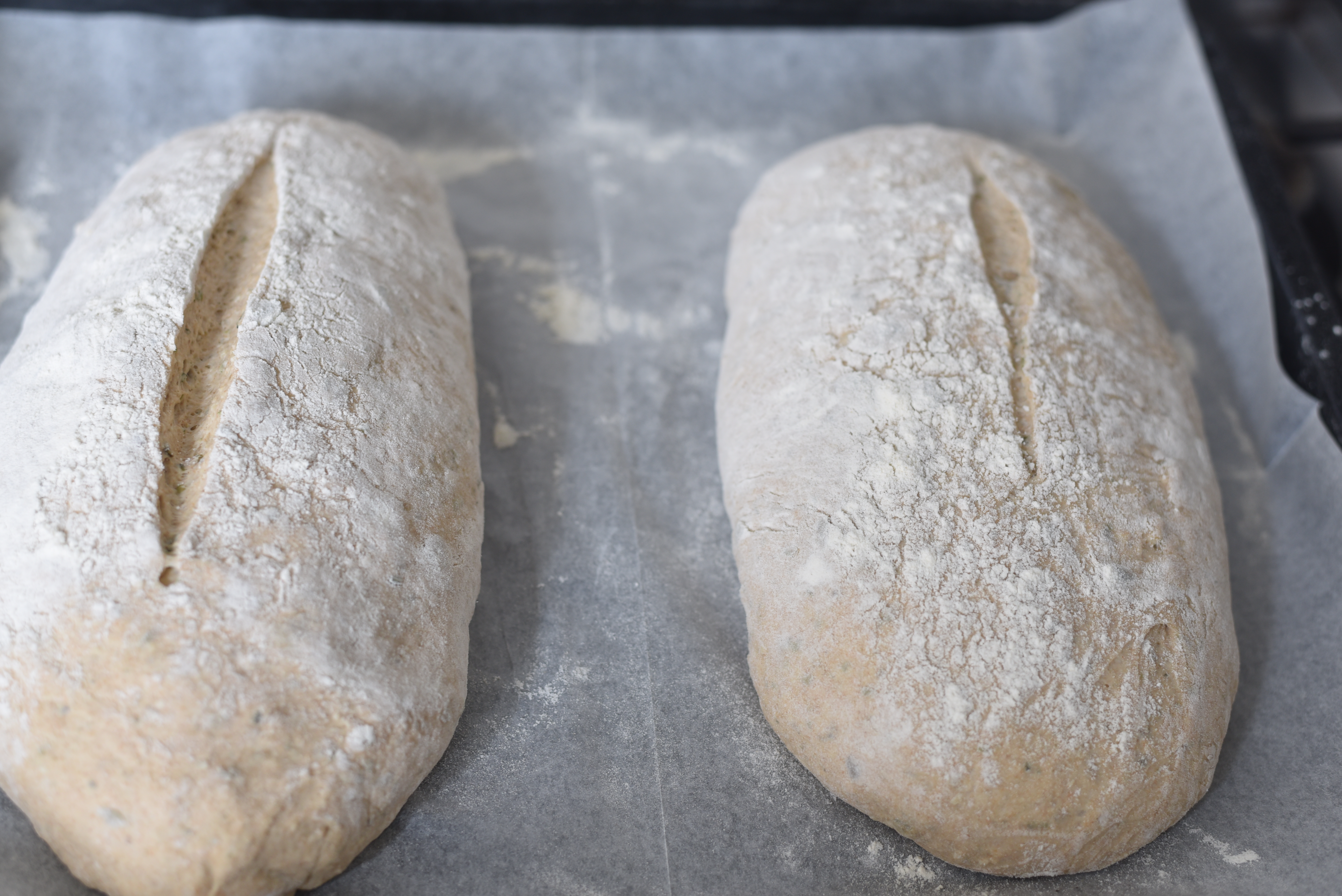 6
When the bread loaves are fully baked, take them out and let cool on a rack for 30 minutes before serving.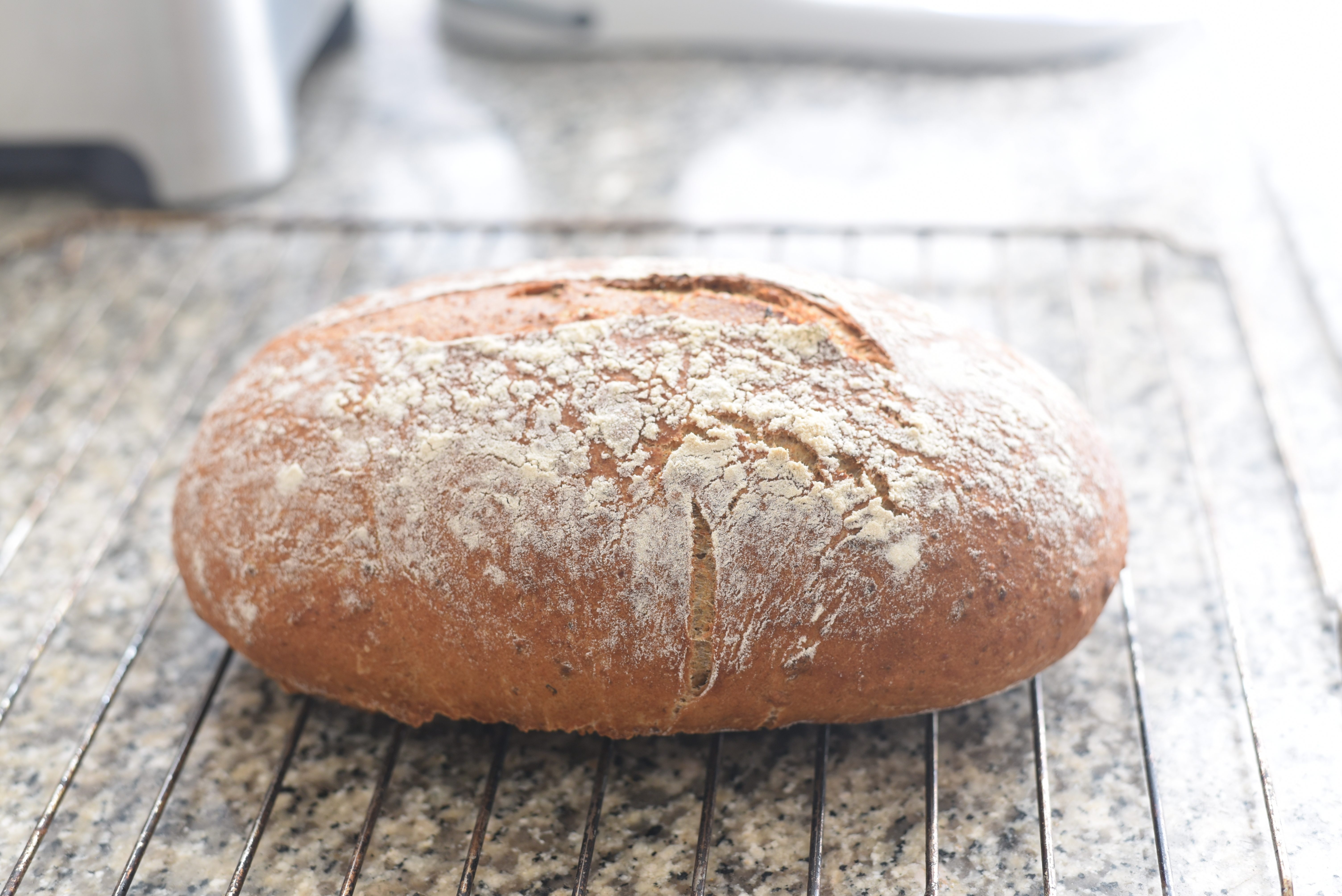 Summary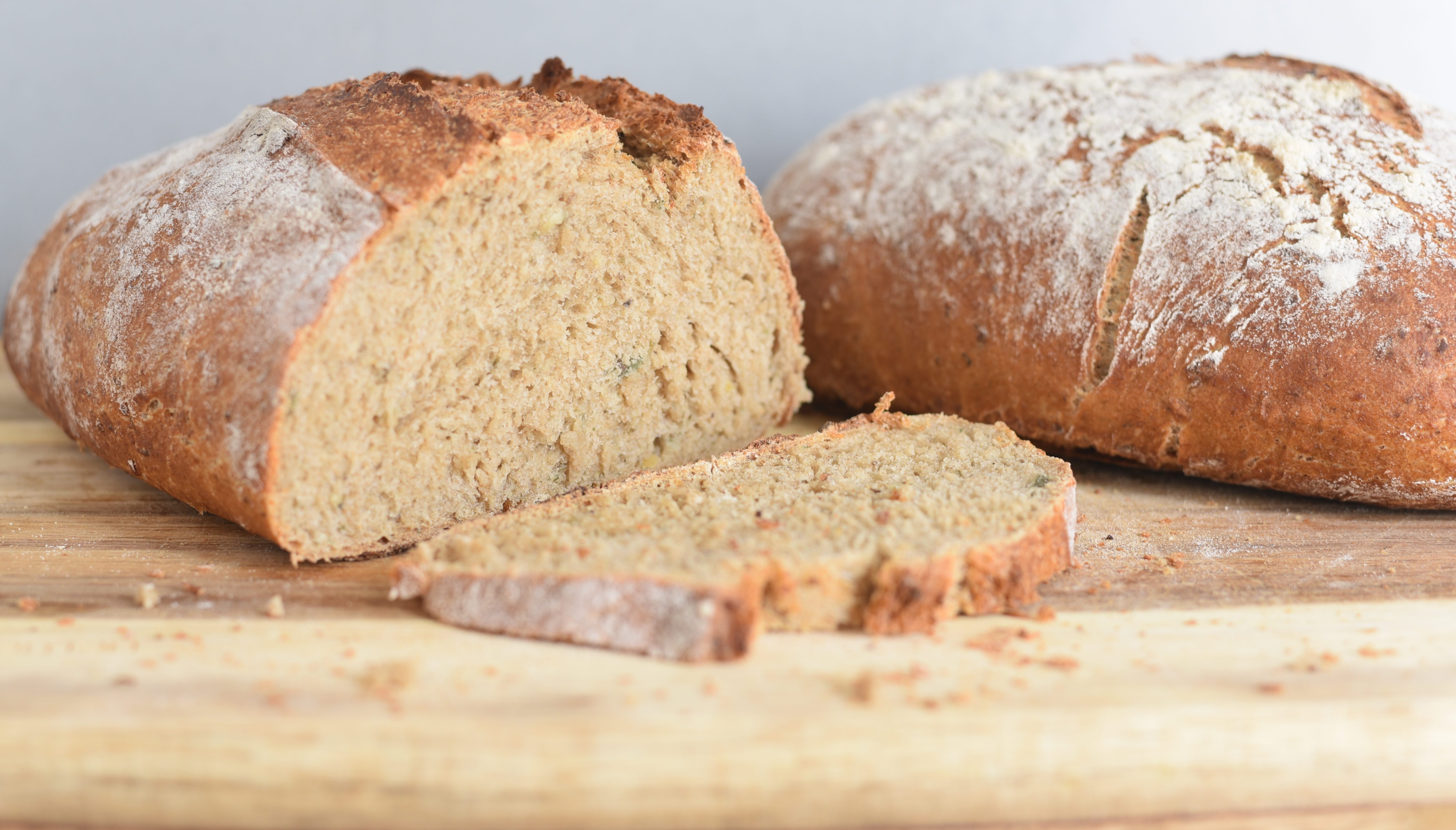 Recipe Name
Published On
Preparation Time
Cook Time
Total Time
FPB_Admin